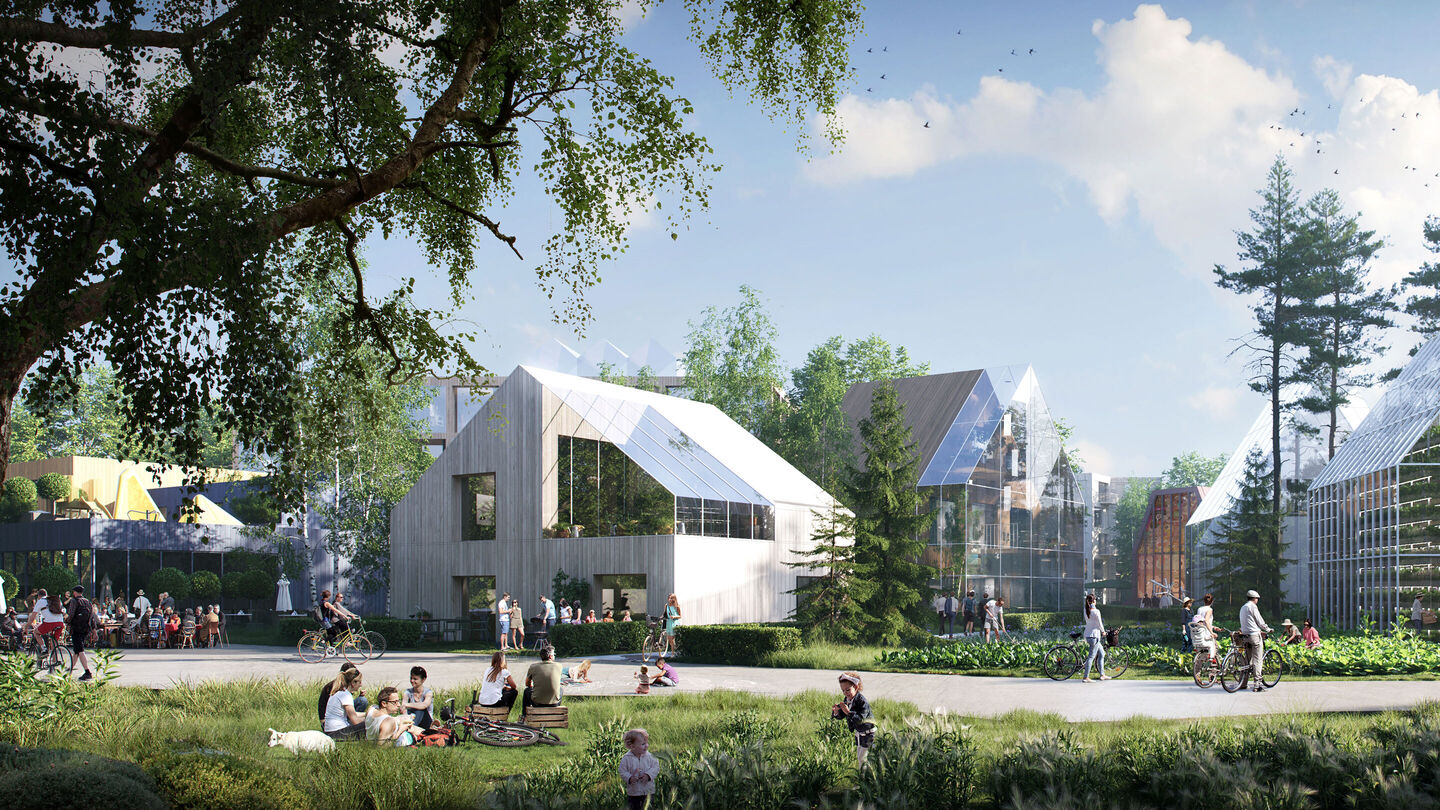 WoodHood Kreuzfeld
The future of urbanism is green, sustainable and collective. WoodHood pays tribute to Ebenezer Howard's famous vision but is much more than the classic garden city. It is a vision for a new typology of urbanism that requires the courage to rethink the connection between city and landscape.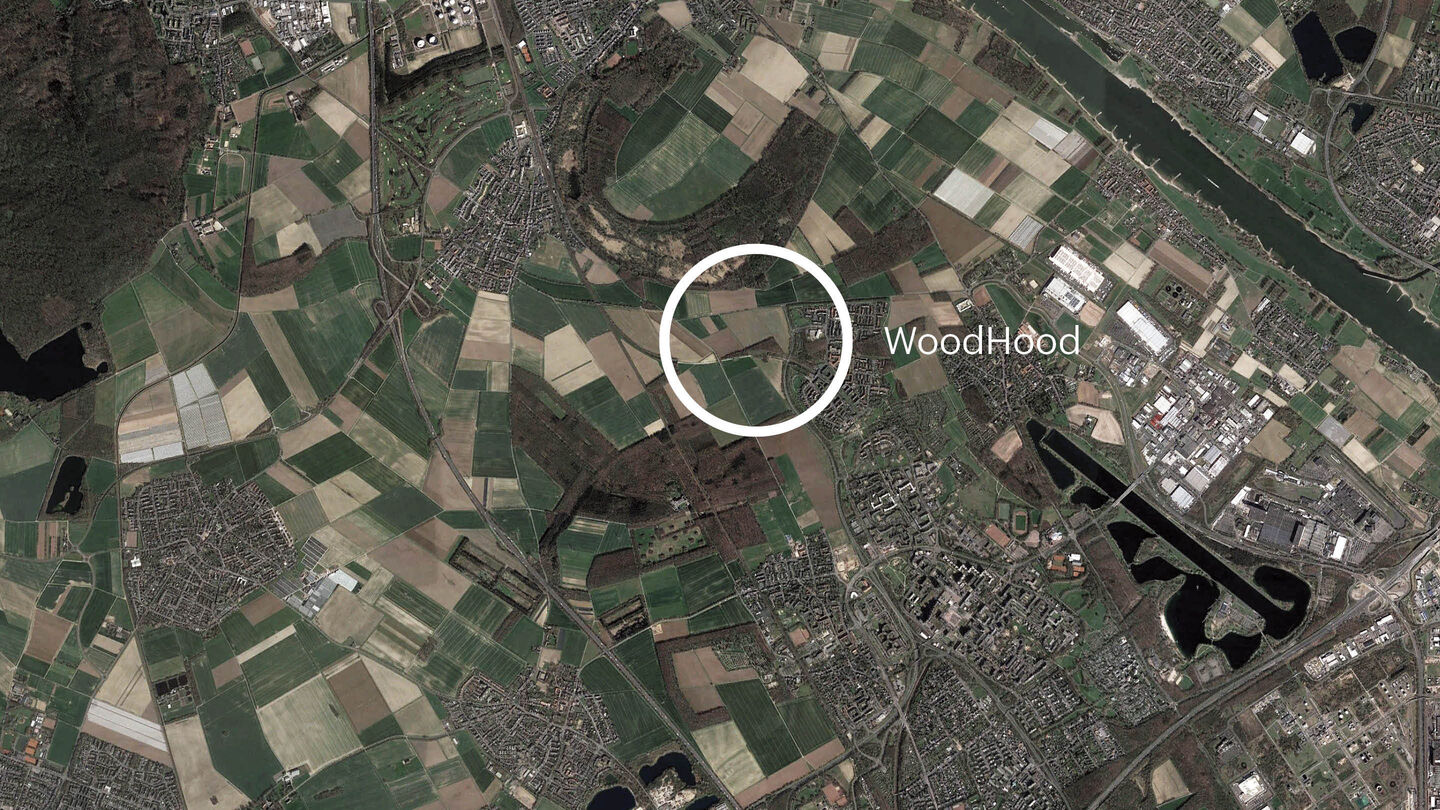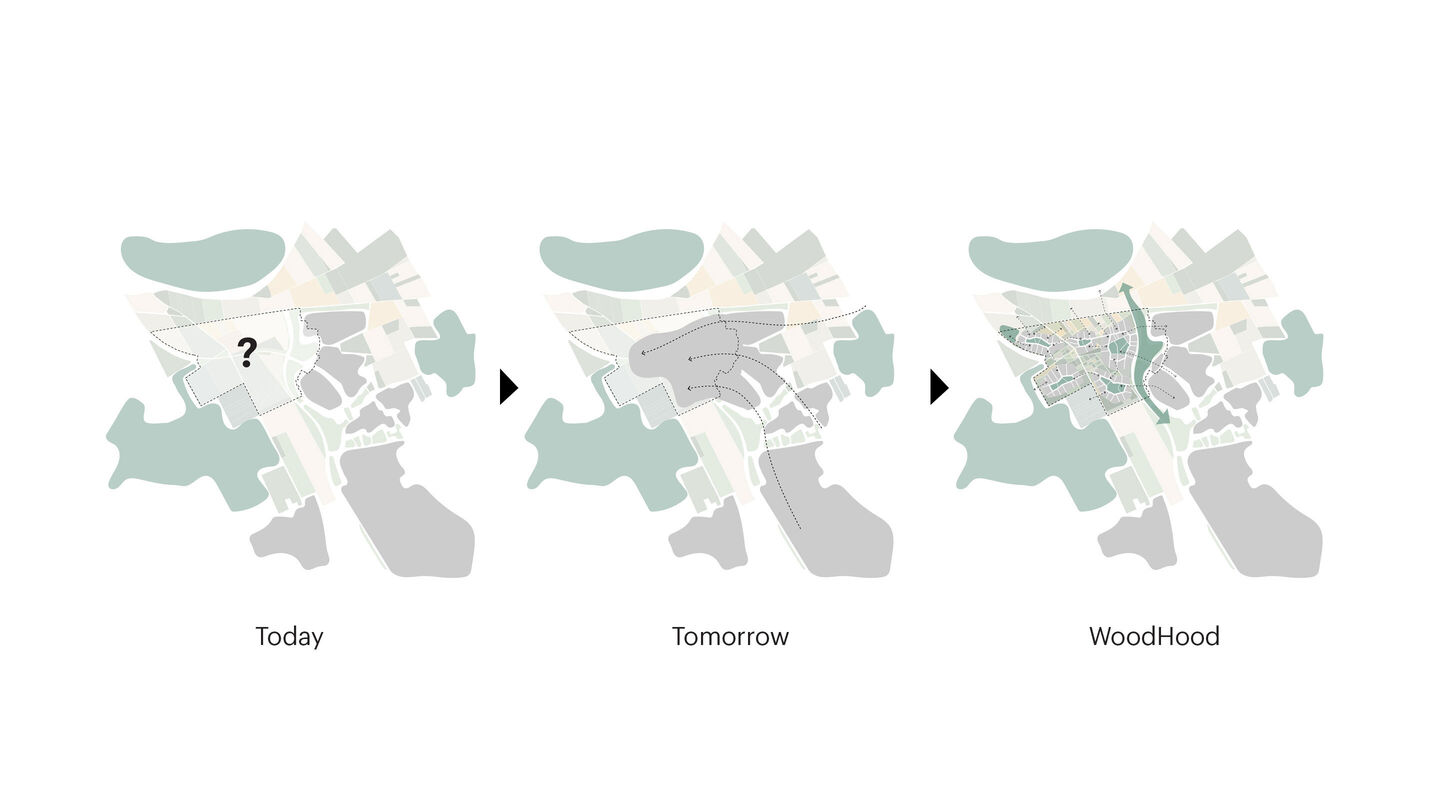 Holistic sustainability: WoodHood promotes a sustainable living. Building with wood reduces CO2 pollution and leads to fewer bound emissions and carbon storage. Forest areas contribute to climate resilience. Local energy cycles focus on renewable energy with photovoltaic panels, a cold local heating network and rainwater collection.
Placemaking: The surrounding agriculture, the forest structures and diverse landscapes form the basis of WoodHood. It connects the large-scale characteristics to create varied neighbourhood identities.
Community building: WoodHood combines an urban grain with village community life to define a new kind of urbanism. WoodHood accommodates a variety of building typologies for living, working, education and coming together, providing space for different residents, regardless of income and life stage.
Human scale: In contrast to a more conventional urbanity, Woodhood is structured as a polycentric human-scaled ecosystem. The architectural principles supports this in set of simple, flexible rules that allows for a wide variety of typologies.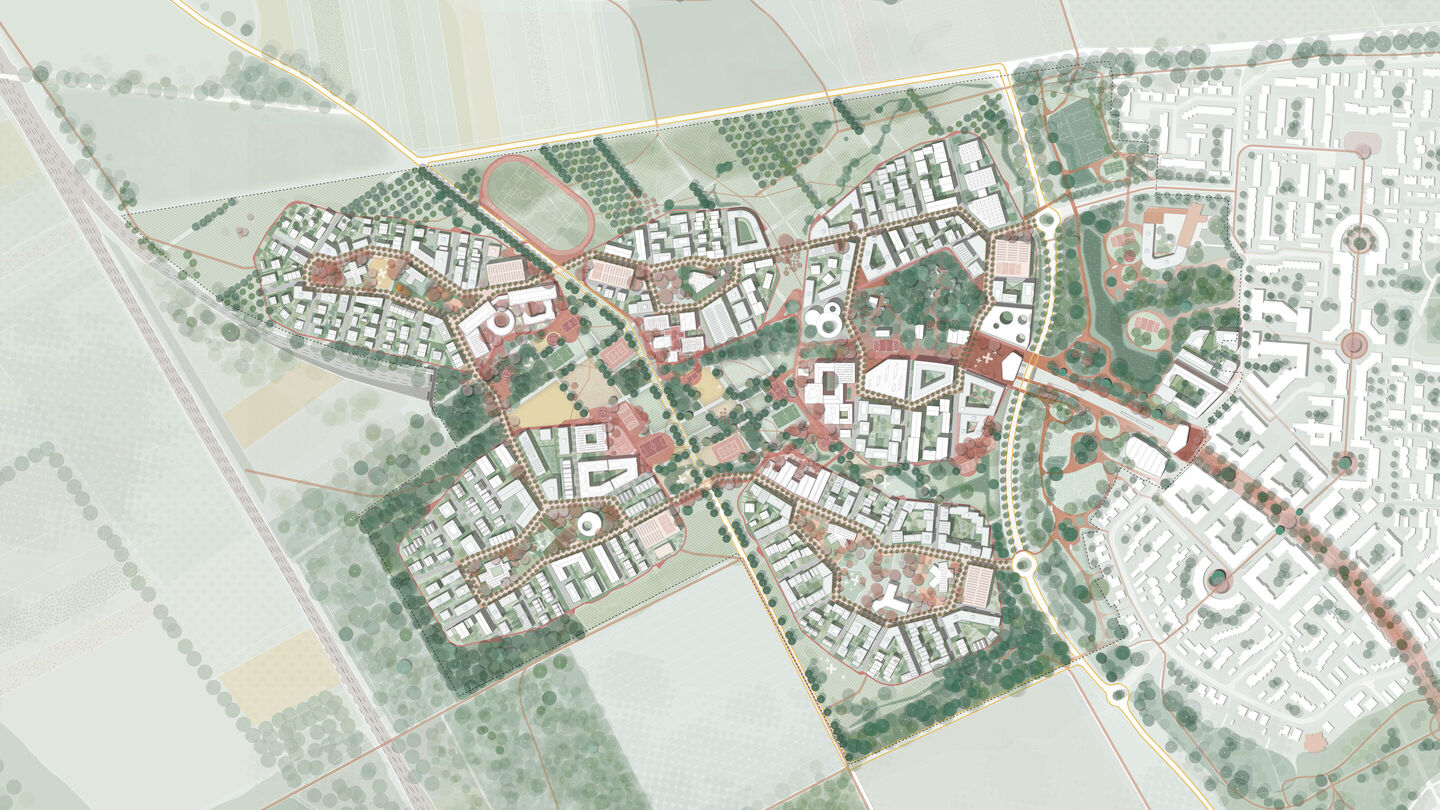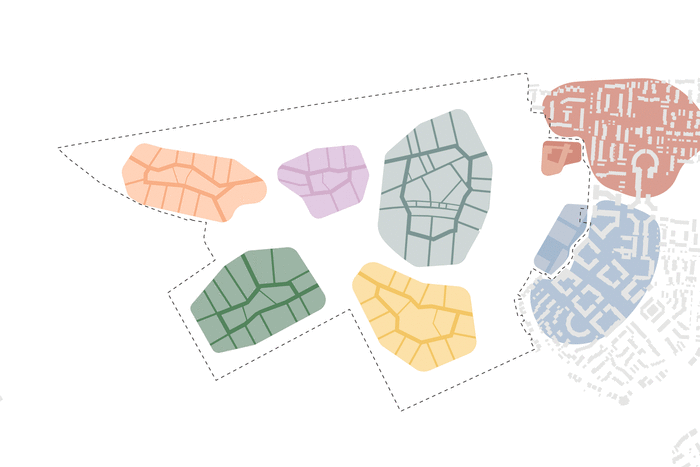 WoodHood is not a simple extension of the existing city but a district in its own right. It consists of 5 individual 'hoods' - each hood with its own character and tailored functions. The historic landscape structure of woods and fields is integrated into WoodHood making space for both active and recreational programs.
The mobility network is based on a fine-grained network for bicycle and pedestrian traffic and ensures a very good connection to the existing city. Access for motorized individual traffic is allowed, but not encouraged.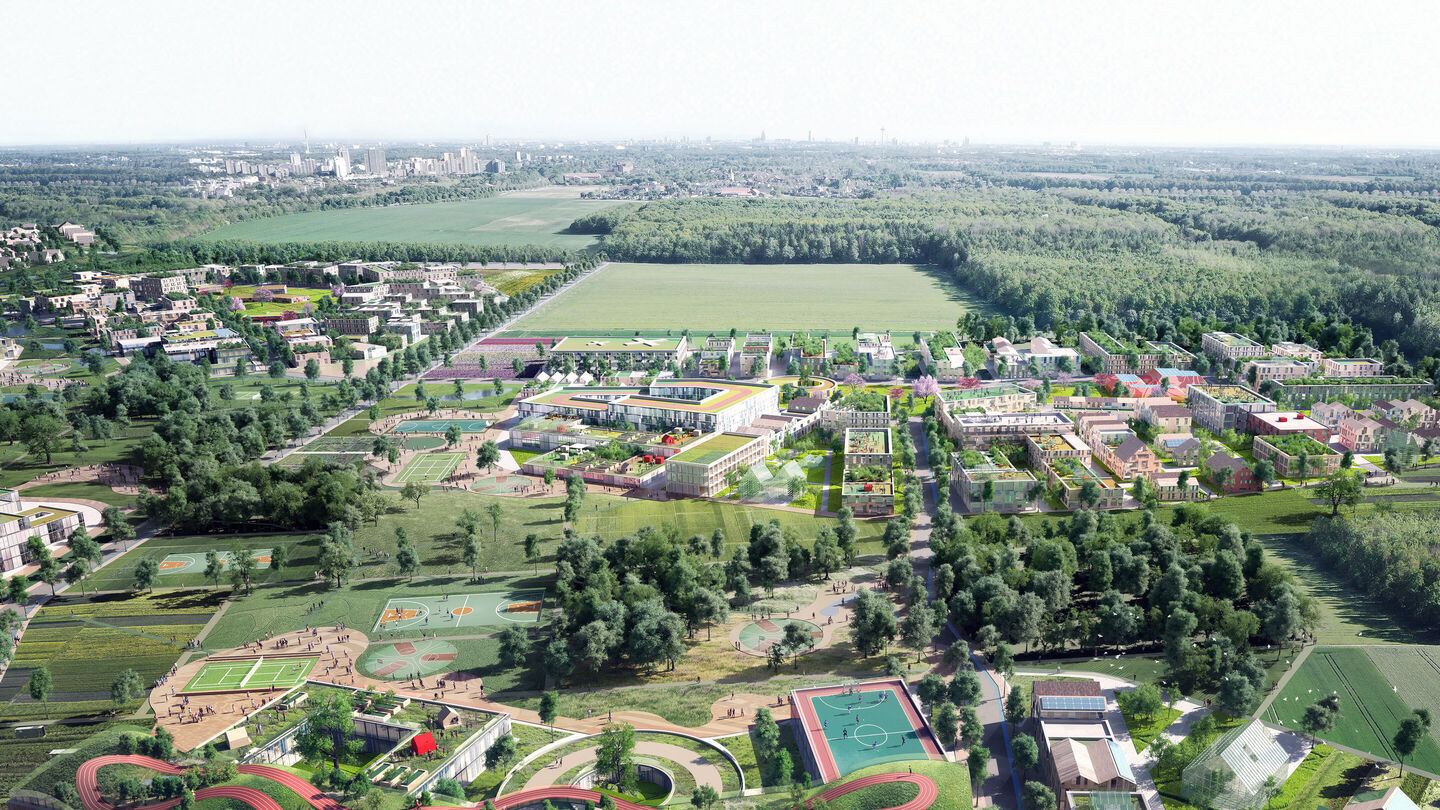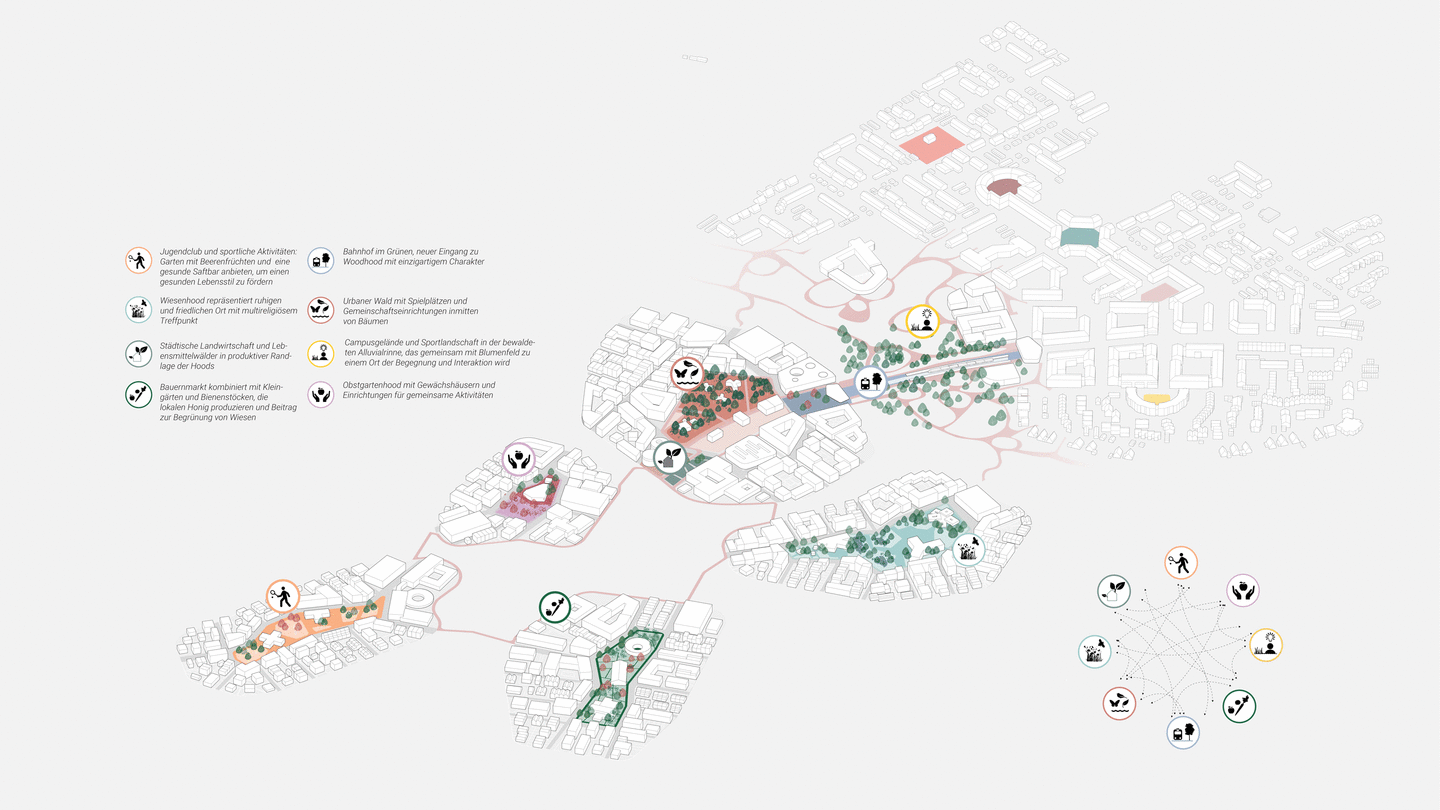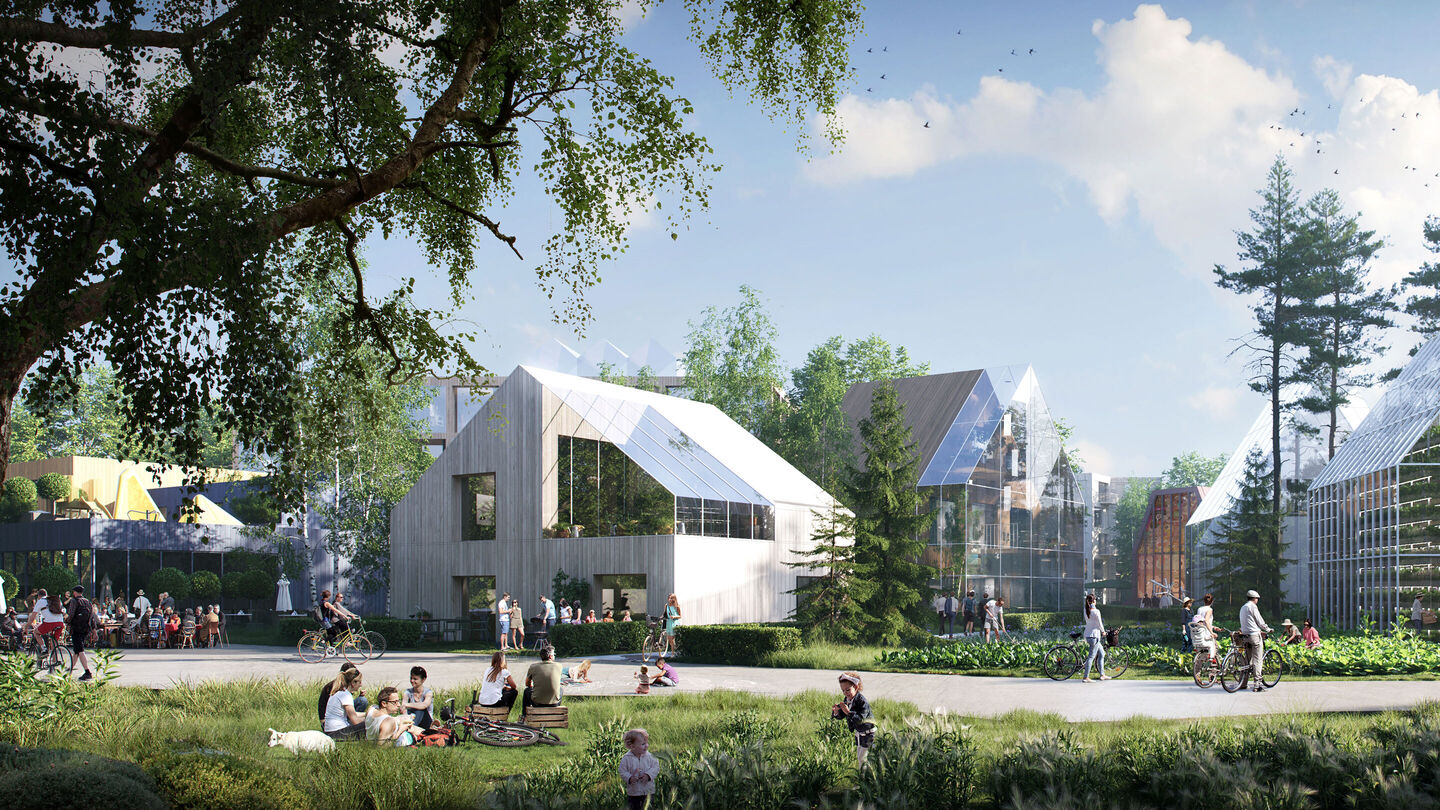 The organisation of each hood is based on the creation of diverse communities. The chosen structure contributes to the creation of communities at different scales. The Hoods combine an urban grain with village-specific community life to define a new kind of urban village.
Each Hood accommodates a variety of building typologies for living, working, education and coming together, providing space for different residents, regardless of income and life stage, to realise their personal 'living space' in Woodhood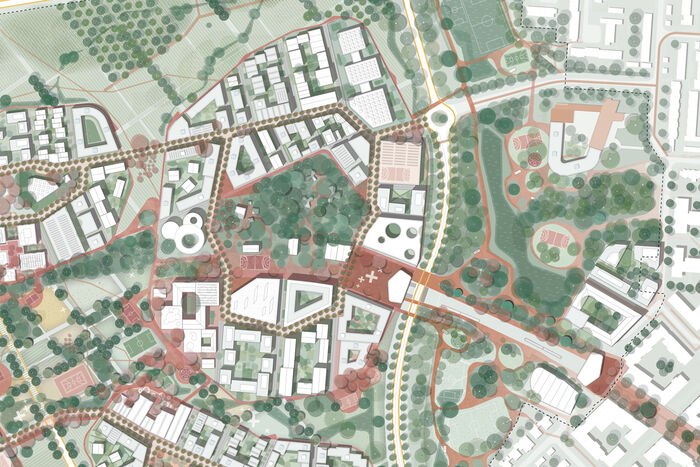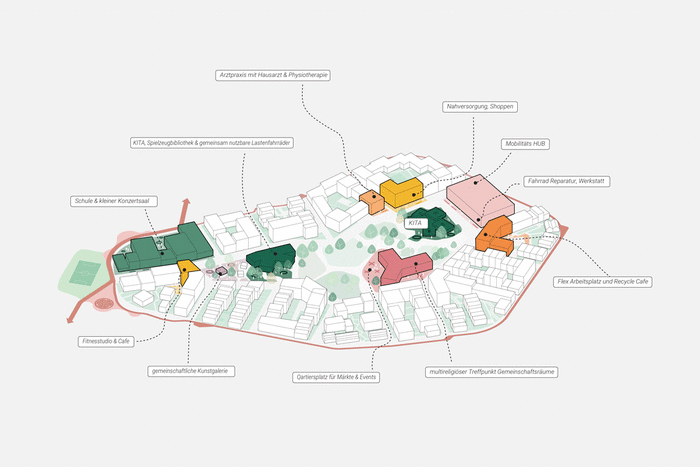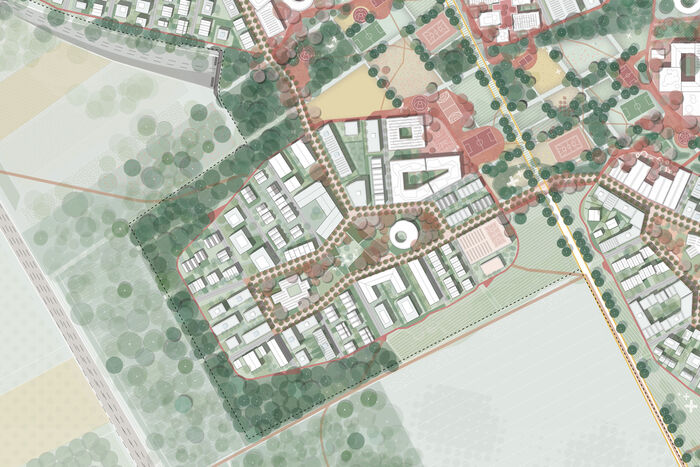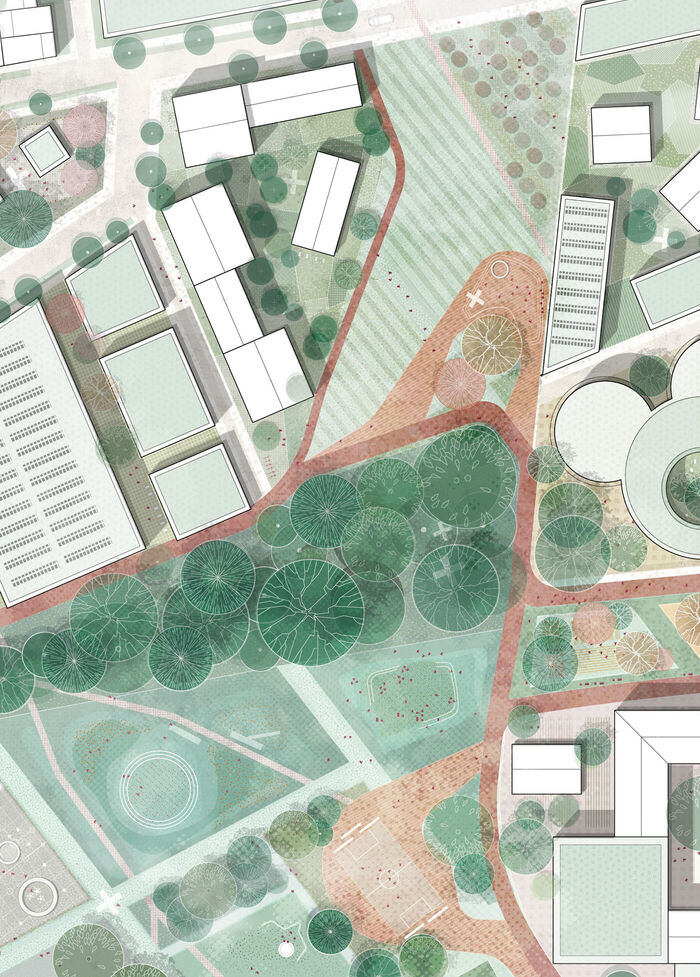 The green infrastructure connects the historic woodlands, diverse landscapes and agricultural identity while creating space for activities. Between conservation, maintenance, connection, activation and use, a regenerative and productive landscape emerges.
This green urban ecosystem contributes to biodiversity, cultivation and care of local resources, creates climate-protecting green infrastructure and acts as a frame for urban life.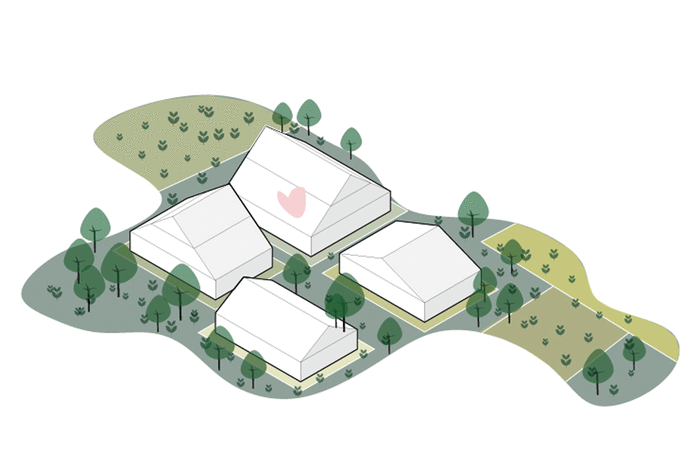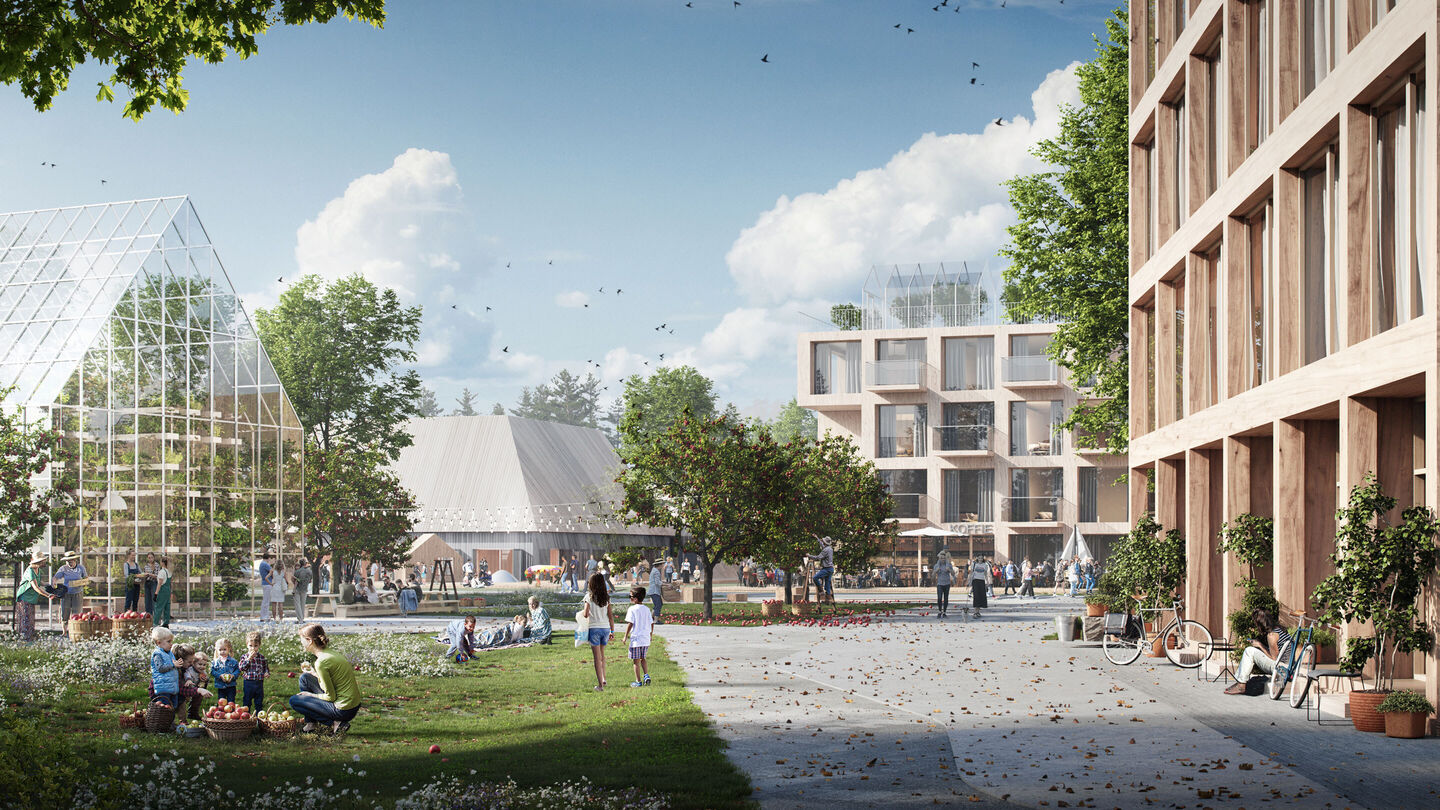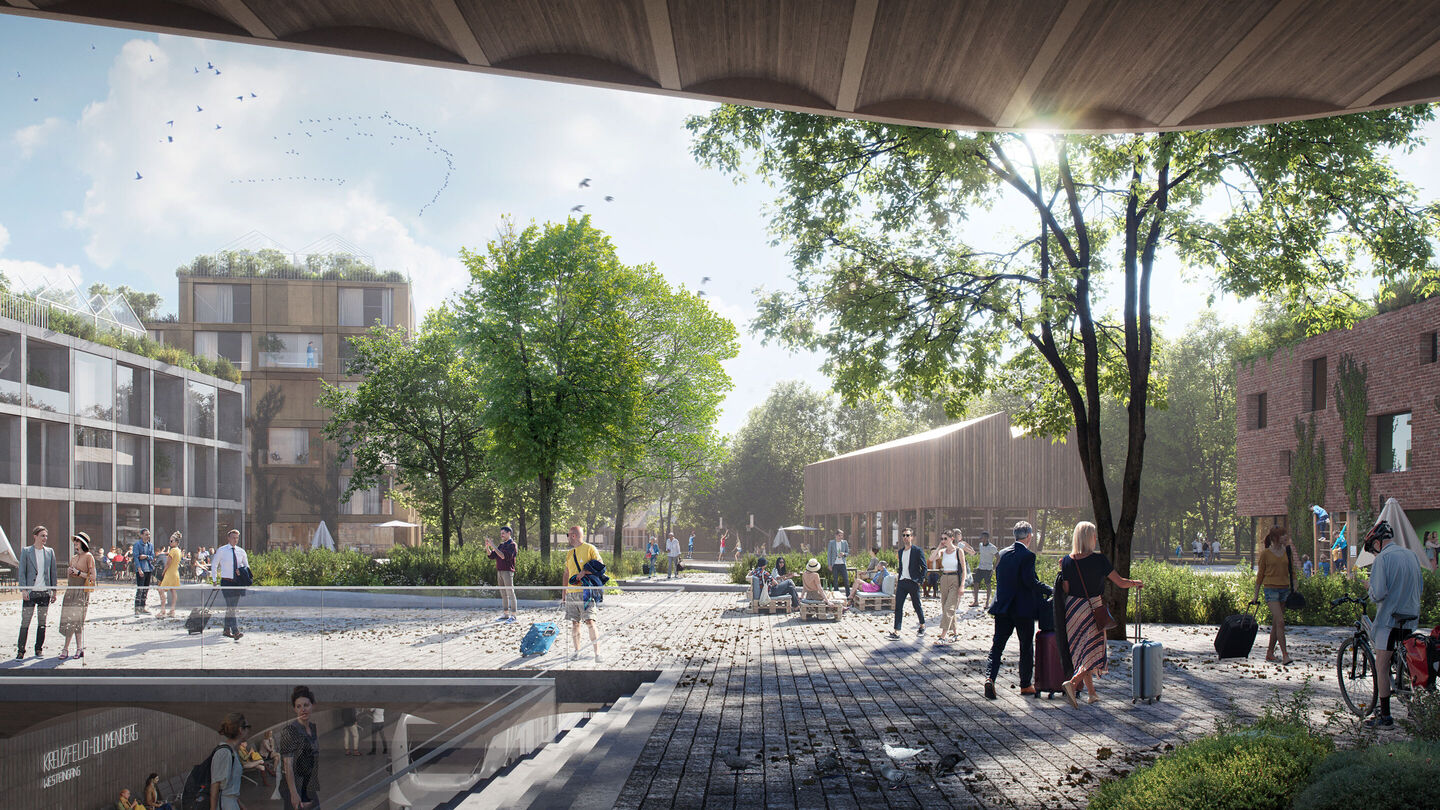 Each hood has its own identity and profile, while as a whole, they form a coherent city.
The Hoods evolve from urban to landscape in an east-west progression: From courtyard blocks in the east, to U-shaped blocks opening up to the landscape, to more punctuated structures in the west. A robust urban and landscape gradient creates a clear identity for the different hoods, and a set of flexible rules allows for a wide variety of classic and innovative typologies without sacrificing a clear overall system.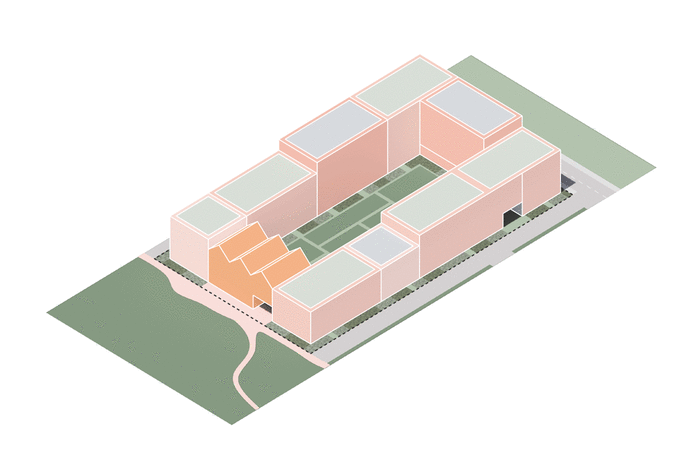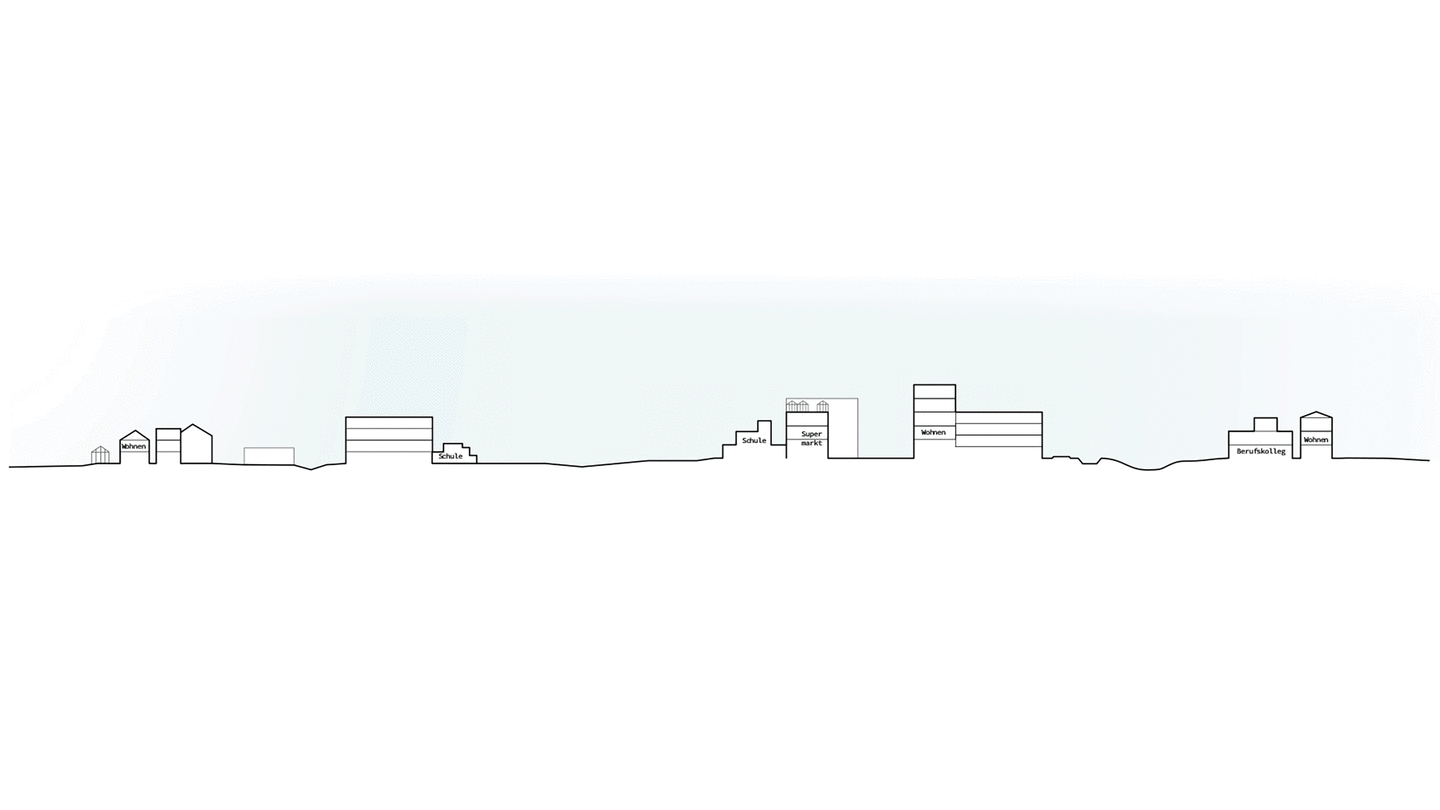 Material, water and energy cycles are closed locally or linked with neighbouring facilities. A main focus is placed on minimizing demand through passive construction and energy-efficient technologies. The remaining energy demand is met by a modular, integrated system that combines PV generation and a cold local heating network , allowing a balance between heating, cooling and electricity demand. An intelligent management system balances supply and demand using buffer and storage technologies and provides feedback to users.

Woodhood focuses on smart energy and mobility solutions. Renewable energy generation is maximised by integrating PV panels on roofs and mobility hubs. Battery storage compensate for fluctuations.
The area also relies on a smart heating system. A cold local heating network works with low temperatures per hood and optimizes the efficiency and integration of renewable heat sources. By combining different heat sources, the supply can be developed towards a circular economy. Groundwater is also used as a source, while respecting drinking water protection.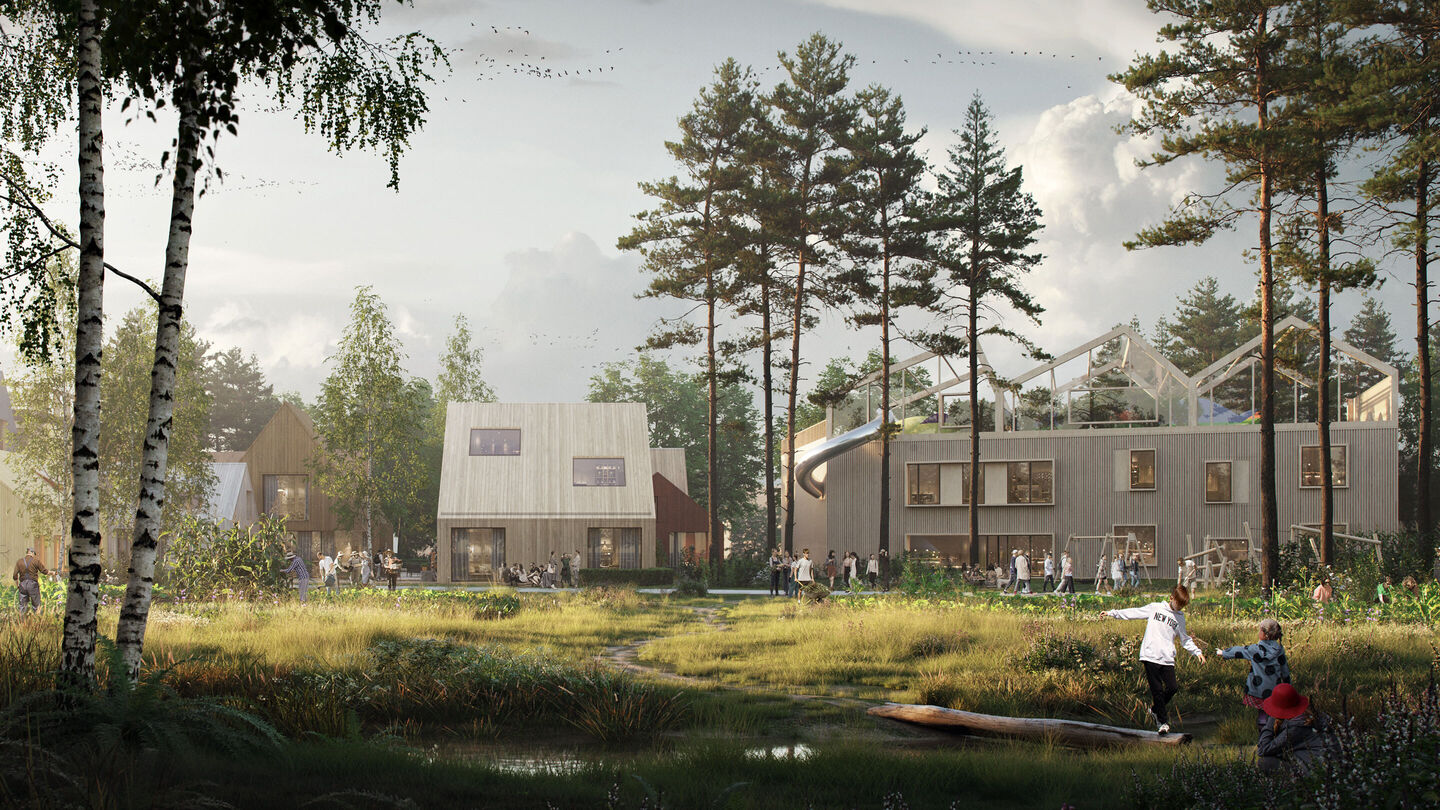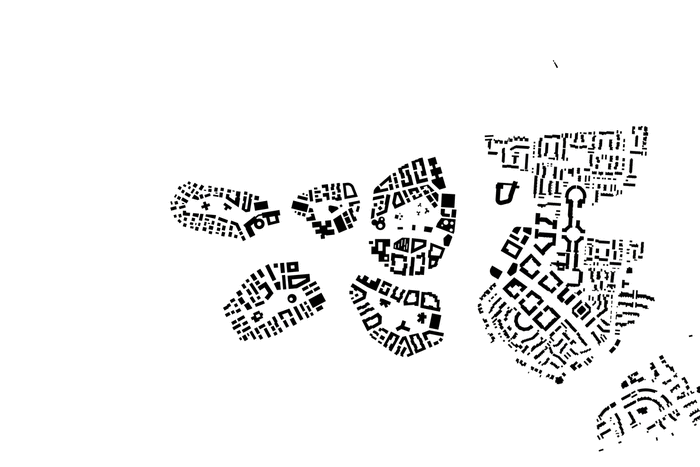 Public green spaces in WoodHood form a complex ecosystem that addresses climate change mitigation, water storage, microclimate and ecology. It represents our ambition to develop a truly sustainable neighbourhood - a city that will be able to generate its own energy and produce some of its food and building materials on site.
Together with an ambitious plan for extensive recycling and reuse of materials, our vision aims to minimize waste and promote a circular society.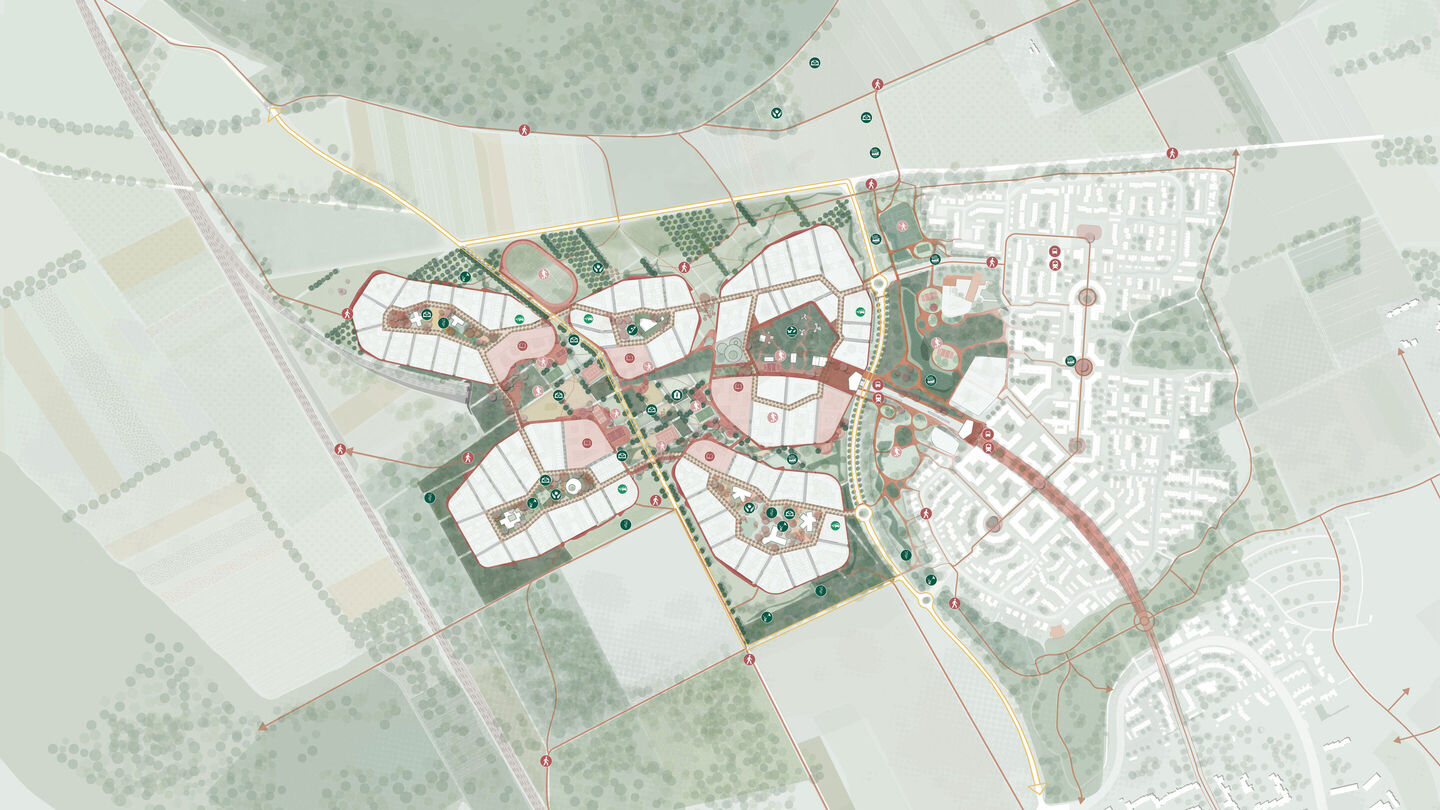 Name: WoodHood Kreuzfeld
Type: Competition 1st prize
Program: Urbanism
Client: Stadt Köln
Size: 80 ha
Location: Cologne DE
Year: 2021 - 2022
Collaborators: KARRES EN BRANDS, Metabolic, Argus
Image credits: Vivid Vision

Team: Martin Laursen, Anders Lonka, Martin Krogh, Simon Poulsen, Tatiana Eneva, Tanja Jauernig, Jens Peter Nielsen, Emilie Zinck, Anika Haget, Leon Wittmaack, Ayoub Chkairi, Samuel Grandin